Products
Support/Structural Steel
Jobco provides complete fabrication of miscellaneous metals for a wide variety of support and structural steel. We manufacture stainless steel clips, attachments and structural steel. We work with a wide variety of construction companies for their client's miscellaneous metal needs. We can receive original drawings electronically and once the job is secured, Jobco contracts an outside engineering firm to provide detailed drawings to us. Once the drawings are provided to us, Jobco can begin the fabrication in our facility. We provide 24 hour service and work closely with our clients on timing and delivery for complete satisfaction from design to installation.
Fabricate custom slips, angels, beams, tubes
Projects:
Quantico Marine Museum
Column Covers
Jobco Manufacturing's engineered column covers gives a client the design touches that can enhance a building's aesthetics. Our covers are made out of stainless steel and aluminum and can be custom made in a wide variety of finishes. We can work with a company designer or architect to meet all of your requirements.
Projects:
Charles A Gammons Cancer Center at Dallas part of Baylor University Medical Center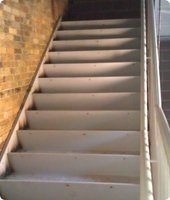 Handrails, Railings and Stairs
Jobco Manufactures handrails and railings that are professionally engineered to meet safety requirements. We can fabricate any size miscellaneous metal product and configure that product to meet your exact needs and measurements. Our prices are very competitive.
Pan Steps, Concrete Filled Steps, Deck Plate and Grating Treads, Crossover Steps, Picket Handrails
Products can be field measured and designed to meet all specified codes.
Projects: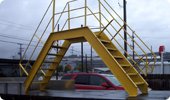 Structural Mezzanines (Industrial Steps, Safety Ladders, Crossover Steps, Catwalks)
Whether working with an architect or a construction company, Jobco can work with companies on fabrication of structural mezzanines including industrial steps, safety ladders, crossover steps, and catwalks for any type of building. We can receive your drawings electronically and work closely with subcontractors for installation.
Jobco follows all safety regulations and specs.
Projects:
Crossover Steps (IPSCO Koppel Steel)
Miscellaneous Projects
Metal Grates
Whether placing a grate on a window for securing your building or for placement on a building panel, Jobco can manufacture any type of miscellaneous metal grate for your building's requirements.
Need info.
Projects
Security Facilities, NPS (National Panel Systems)
Sound Wall
Noise from commercial buildings, warehouses, and highways is an on-going issue nationwide. Jobco Manufacturing provides a sound wall system that can be manufactured and shipped to any location. Our sound wall panels provide that noise protection for any noise sensitive project.
Projects:
Michigan Avenue in Lansing Michigan
Solar Panel Hardware System
Jobco Manufacturing can fabricate all your hardware needs for securing solar panels. We can provide plate mounting systems, grounding clip systems, and top and bottom mounting brackets to secure solar panels on a commercial building or home.